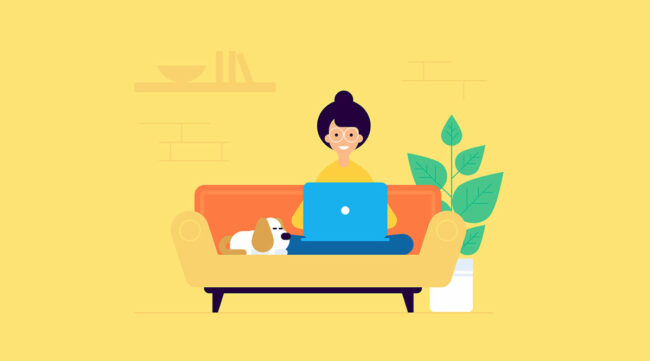 Gmail has earned its place as one of the most popular email providers for personal and business use. It draws in so many users, because it's easy to use, and it's rich with features.
One such feature is the ability to send a fax online directly through Gmail just like you would an email attachment. All you have to do is partner your powerful, easy to use Gmail account with your online fax service, such as your FaxBurner account. It couldn't be easier.
Just follow these simple steps below and you'll be able to send faxes from your Gmail account in no time.
Create Your FaxBurner Account
This article assumes you have an existing Gmail account. If you don't, set that up first. Now, go to Faxburner.com, and take the option to sign up for our fax services. Choose the package you want. Yes, you can send a fax from Gmail using the free online fax version of our app, but take a moment to consider the benefits of our professional and premier versions.
As you sign up, you'll be asked to provide an email address. It's important that you select your Gmail. Once you've created your account, and selected a password, you can reserve your fax number. That's all you need to do through the FaxBurner dashboard.
Return to Gmail to Send Your Fax
Now you can go into Gmail. It doesn't matter if you use the Gmail app for this, or you use the browser version. Just be certain you log into the same account you used to create your FaxBurner account. You won't be able to send a fax from Gmail unless if the email is sent from a different account to your FaxBurner login.
Create Your Subject Line
Your subject line should include the fax number of the receiver. This is important. Don't use your FaxBurner number, otherwise you will only be sending a fax to yourself.
The Body of Your Email
Now, you can type the body of your email. This is optional though. If you do type anything here, that will become the 'cover letter' of your fax. This is the benefit of using our online fax service as opposed to a normal fax machine, as you don't have to spend time deciding upon a fax cover sheet template.
Attach The Documents to be Sent
When sending faxes by email, FaxBurner works with PDF documents (with the app you can fax using photos from your phone).
Fortunately, it's quite easy to get your documents in that format. Most word processing software or Google Docs will save documents as PDF file type. You can also print a document to a PDF file. There are also PDF conversion tools if you want to do this through a batch process.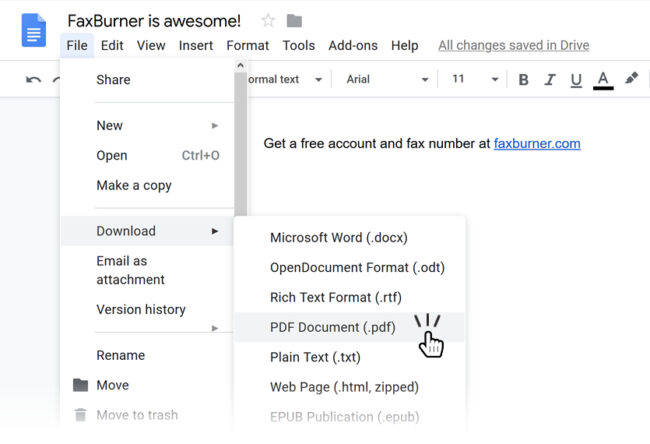 In any case, you have several options, and most are free.
Just remember to attach your PDF to the email. Otherwise, the recipient of your Gmail fax will get a blank page.
Send The Email – What Happens Now?
Once you attach your file, just hit send!
We then receive your email, and from there, we will match your email to your account. Then, the FaxBurner app software will get to work. The phone number in the subject line will be used as a fax number. The body of your email is converted into a fax cover sheet. Finally, your attached documents will be converted into documents to be faxed.
Fast and easy!
What Will The Recipient See?
Good news! This process is completely obscured. Your recipient won't see your email address. All they will see is the fax you sent them from your fax number. It's as if you are sending a fax from a machine at a local print and copy shop.
Are There Any Limitations?
Only if you have a free fax account. In that case you can send a total of five pages. That should give you the opportunity to send a one-off fax using our software, and to determine whether or not you like our tool. If you do upgrade your account, you'll have the option to archive your faxes, keep your fax number forever, and send between 500 and 2000 pages every month.
Final Thoughts: Why Send a Fax From Gmail?
For most people, this allows them to send a fax to someone who cannot or will not receive email. For others, using email for sending faxes is necessary to accommodate data security concerns. Whatever your reasons for wanting to send faxes via Gmail, make sure you remember to sign up to FaxBurner and take a look at our additional plans to meet your ongoing fax needs.