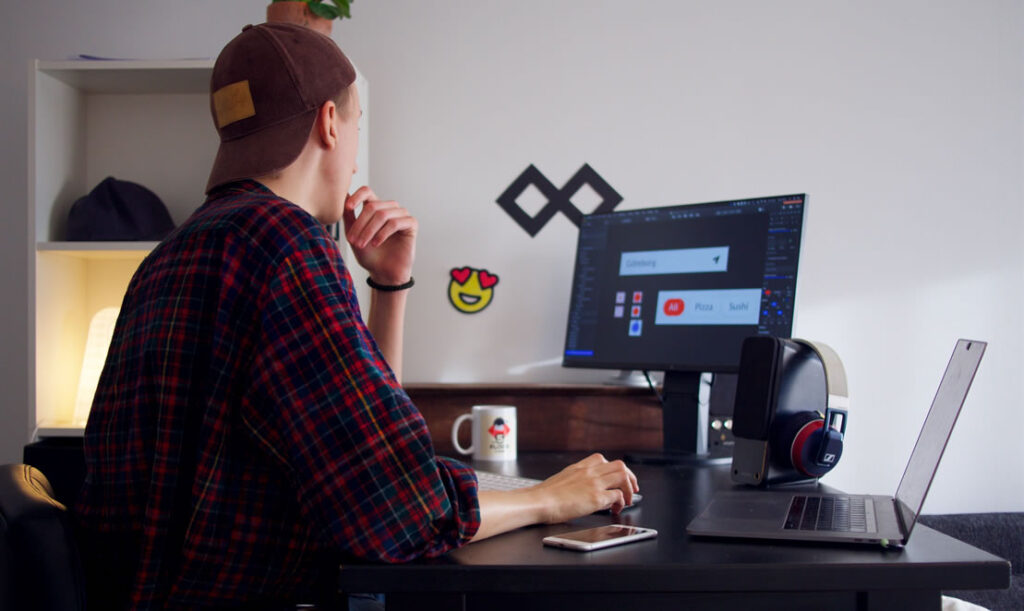 Many traditional employees are making the switch to freelance work. And for a host of different reasons. Working online comes with its own set of challenges, though, and upstart entrepreneurs sometimes struggle to find the right freelancer for the job.
While finding a talented freelancer might be more difficult, we have some reliable tips to help you out.
How To Hire Skilled Freelancers – Step by Step
If you are looking to find freelancers to work on your projects, you will need to follow some important steps to get the final results you are looking for. By following these simple steps, you will be able to find highly skilled freelance workers who are capable of completing your projects efficiently and effectively.
Create an Enticing Ad or Job Description
When you are posting an ad or job, you want it to attract the attention of superb freelancers. You want the posting to include as much important information as possible without it being too long. If a job posting is too long, some people may overlook it.
As we all know, freelancers get to pick and choose which jobs they would like to work on. This is why a job posting is so important – you want to attract the right freelancers.
First, you will want to start with a catchy title that will entice people to read the description. When writing the description for the job, keep it simple with as much pertinent information as possible.
If you don't include enough information, people won't understand the project or feel confident that they are a good fit. So they won't apply.
On the other hand, too much content can seem overwhelming. So they won't apply.
Remember to include the type of job it is and a brief but clear outline of the task at hand. You'll want to clarify the payment terms and how long the job will last. You will also need to decide how you will pay the freelancer, for instance, an hourly rate or a fixed price when the task is completed.
Most freelance jobs are short-term positions, though some can become long-term with the right dynamic.
Other important information to include is a deadline or timeline, as well as answers to many commonly asked questions.
Post the Ad
Naturally, if you know of anyone who might be able to recommend a freelancer, approach them. You can save yourself time and hassle by working with a freelancer that an associate of yours has already worked with and trusts. Send them your job description and see if you're a fit.
If that's not possible, be prepared to post the ad. There are all kinds of potential outlets. If you're looking to hire a local freelancer, try local newspapers or job boards, or Craigslist. If location is not important, specialized online freelance sites such as Upwork or Guru are a great option. We will discuss the various job sites for hiring freelancers later in this article.
Evaluate Candidates and Check References
Ideally, you'll get multiple applicants for your position, giving you the opportunity to pick and choose. Evaluate your candidates based on their responses, resumes, and completion of any tasks that you may have required during the application process.
Naturally, you can't believe everything you read on a resume. That's why it's important to ask for and follow up on references. That will enable you to find out what past employers and coworkers think about that specific freelancer. If you used one of the freelancer websites, your applicants would likely have accrued reviews from past projects that you can use to help you evaluate.
Then, connect with the best freelancers to narrow down to your hire.
Consider an Agency
Some agencies and web platforms can help you find talent as well. Most agencies have a rigorous interview process and have their own methods to keep track of their freelancers. They will track their work, progress, and projects they have worked on.
You can contact an agency and ask them to send a fax with some resumes.
Interview
Remember to be thorough when it comes to interviews, especially if you are hiring someone non-local. You may want to consider video calls for your interviews, which can make it feel a little more personal. During the interview, be clear about your expectations.
Your expectations can include a deadline, certain aspects of the project, communication preferences, and whatever else you may require. When you are open and clear about expectations, you will weed out any freelancers that might not be a good fit for the job. This is important, as you only want talented freelancers who can meet or exceed expectations.
During your interview, you may want to ask personal questions as well. Ask them about their strengths and weaknesses, or maybe ask them about something that they have overcome. These questions can help you understand them more as a person.
Take a Chance
Because so many people are switching to freelance work, some candidates may not have a lot of experience, ratings, or reviews. That doesn't mean they aren't worth a shot. Sometimes, you just need to trust your gut when it comes to hiring a freelancer.
If you feel that they may work out, you can offer a paid trial run or ask them for a paid sample of their work that pertains to the job.
Consider Hiring Quality Freelancers Long-Term
Sure, you're looking for a freelancer. But be open to the possibility of a long-term work relationship. Many freelancers would prefer a steady flow of work instead of a few short and quick projects. While short projects offer more freedom, long-term relationships offer more financial stability.
Of course, you don't have to keep the first person you hire forever. However, if you find a freelancer that exceeds your expectations and you work well together, you might want to consider a long-term partnership.
The Best Freelance Job Sites to Hire Freelancers
Luckily, there are plenty of freelance websites that can help you find the perfect freelancer for your project. These job sites are especially great for finding freelancers with specific skills or experience in a particular field. So whether you need creative freelancers for graphic design, a freelance writer, or someone for web design, there's sure to be a freelance job site that can connect you with the perfect freelancer for the job.
Freelance websites also make it easier to hire multiple freelancers and build a talented team of professionals to work on your projects.
Here's a list of the top freelance websites to help you find and hire freelancers for your business.
Upwork
One of the most popular places to find freelancers is Upwork. This site hosts tons of freelancers specializing in every type of work you can imagine, from content writers and graphic designers to administrative tasks like virtual assistants and travel planning. This site has a vast pool of talented professionals, so it's easy to hire someone who fits your needs perfectly.
You can create an account for free or upgrade your membership for added features like unlimited bids on projects. Upwork also helps you learn more about freelancers before hiring them, so there are fewer surprises when you get your final project.
Upwork is definitely one of the best freelance job sites when you're looking for a creative or technical professional with varied skills. If you're looking for someone specific for your project, be sure to check out their profile pages before hiring. You'll be able to see how many jobs they've worked on in the past, their skills or previous work history, any reviews from clients or employers, and what they charge per hour.
Fiverr
You've probably heard of Fiverr; it's one of the most popular freelance job sites out there. One great thing about this site is that the gigs start at only $5 per task (hence the name Fiverr). Some freelancers offer additional services or upgrades for an extra price, but you'll always see the upfront cost before hiring them. This makes it easy to hire someone and not worry about how much you need to pay freelancers.
Whether you need creative freelancers for graphic design, web developers, or even a voice actor for your podcast intro line, there are plenty of options on Fiverr. They also make finding quality freelancers easier using Fiverr Pro. You can browse freelancers who have been verified and hand-vetted, ensuring that you only hire great freelancers with a proven track record of producing quality work.
Plus, if they're unable to complete your project for some reason, Fiverr promises 100% money back. Another great thing about Fiverr is that your project can be completed and delivered within 24 hours by certain freelancers making this a great option if you have a last-minute project.
PeoplePerHour
This freelance platform is another great option for hiring freelancers. PeoplePerHour connects freelancers from all over the world with businesses to help them find their next project. You can even download a free PeoplePerHour app right from Google Play to browse profiles and hire professionals on the go.
You have the option to post a project or hire a freelancer straight from their directory. Once you create a project, PeoplePerHour puts your project in front of potential candidates for approval. You can then read through profiles, choose a freelancer and make a deposit to begin the work. Once your task is finished and you are happy with the outcome, you can pay the remaining balance to the freelancer through PeoplePerHour's secure payments system.
Freelancer
No list of websites to hire freelance workers would be complete without mentioning Freelancer.Com. This quickly became one of the most popular freelance sites available since its launch in 2009. Being one of the largest freelance platforms, Freelancer makes it easy to find remote talent with its extensive directory of over 50 million freelancers. As with other general freelancer sites like Upwork and Fiverr, every project is catered for data entry, design, programming, etc. Freelancer also offers a time tracker so that you can keep an eye on your freelancer's progress.
Guru
Guru is an excellent place to hire freelancers, and they boast a 99% customer satisfaction rate. They have a large user base and a dedicated customer support team. The site is easy to navigate, and the hiring process and fee structure are easy to understand. They offer multiple Payment terms, 24/7 customer support, and tools for collaborating, communicating, and tracking the progress of your hire.
Toptal
If only the creme de la creme of freelancers will do, Toptal is the freelance job site you need to visit. With a rigorous screening process and high-quality user base, Toptal can help you find freelancers in the top 3% of professionals in their field. This, of course, comes at a price, but for the top talent in project management, finance, software development, and more, it could be well worth the money.
Truelancer
Not as well known as some of the bigger sites, Truelancer still offers a good service. To hire, you simply post the job and choose the fee you are willing to pay for employees who apply. You can also search freelancers by their location or availability so that you only accept freelancers who are available at the times you need them. With filters to help narrow your search by skill, hourly rate, country, etc. Truelancer is an excellent site to try for employers who have specific requirements.
With such a massive demand for hiring freelancers, many new job sites have emerged. Industry-specific sites can help you hire freelancers better suited to your project if you're looking for particular skills.
Here are some of the best industry-specific sites that can help you hire faster and easier:
Upstack
If you need developers to create your next amazing app, Upstack is the place to go. This site makes it easy for employers and software developers to connect through their extensive skills tests, so you only hire qualified professionals with the required experience.
ProBlogger
If you're looking for a blog writer with industry-specific knowledge, ProBlogger is the site to go. This freelance platform helps writers find work from employers who are in need of content writers and editors with relevant experience and expertise.
99designs
Are you looking for a graphic designer for a logo design or some other creative task? Check out 99designs. This platform is aimed at helping you find the best talent for graphics, web design, and more. How it works is that you can post a contest or design brief explaining what your project entails. Designers submit their designs to your contest for you to choose from. Once you find a design you like, you can award it to the designer who only gets paid in full after receiving your approval on their finished product.
Codeable
This platform was created for WordPress users looking to hire top WordPress experts. You'll get a free estimate with no obligation to purchase the freelancer's service on Codeable. Whatever the scope or size of your project, from minor customizations to building a site from scratch, you'll find a WP expert for your project.
MarketerHire
As the name reveals, MarketerHire is a freelance site for those looking to hire marketers. From social media marketers and search engine optimization specialists to email marketing managers, you'll find a freelancer for your next project on this site. The average time to find a marketer to match requirements on MarketerHire is 48 hours. You'll find marketers on this platform who have worked with top brands such as NetFlix, Uber, Crate & Barrell, and Dollar Shave Club.
Behance
Behance is a job site where you will find the best creatives, from web designers, illustrators, and photographers to filmmakers and 3D animators. This site is recommended for those looking for the best talent from A-list creatives.
Hiring the Best Freelance Talent in Conclusion
With the rise in the number of freelancers, it's easier than ever to find candidates to complete needed work. But finding the right talent in a sea of potentials is a challenge.
Follow the tips above to get a high number of qualified applicants to land the perfect one.
Whether you use a local job board, online freelancer sites, agencies, or referrals, take the leap and enjoy the flexibility and wealth of talent available with freelance professionals.