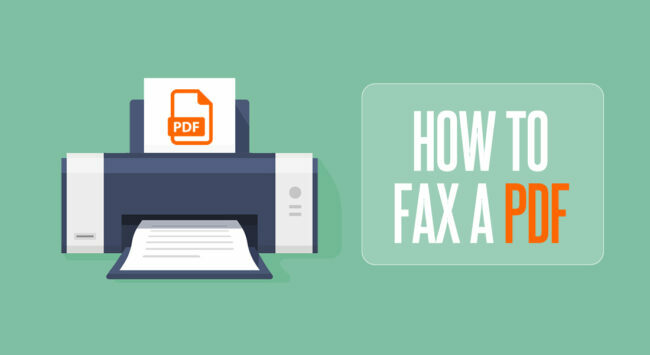 PDF stands for Portable Document Format, and it's a very important type of file in the business world. The main benefit of this format is that devices of all kinds can open and read them.
Adobe and other PDF readers can be easily installed on PCs, Macs, iPhones, Androids, and other platforms.
As one of the most common document formats, people often find themselves needing to fax a document that they have as a PDF. The only problem is, not many of them know how to convert their PDF to fax.
So, how do you fax a PDF?
There are several ways, actually. A couple of them, using email fax services for one, don't even require a fax machine. Online faxing services are especially convenient as they allow you to send and receive faxes quickly, eliminating the need for additional papers completely.
In this article, we'll cover the three most convenient ways of faxing a PDF, using traditional and online fax services.
Faxing a PDF Online

The most convenient way to send a fax is by using FaxBurner. It is a reliable fax service that aims to improve and modernize the whole fax sending experience, improving its speed and efficiency. Whether you need to send a fax or wait to receive one, FaxBurner is the perfect choice for you.
All you need to do to use FaxBurner online fax service is to set up an account. You will also need to have a device connected to the internet. Here is how you can fax a PDF using FaxBurner:
Sign Up for a FaxBurner Account
The best thing about FaxBurner is that you can sign up using any of your devices. FaxBurner is available on the iPhone, Android smartphone, or from your PC/Mac. To register your account, choose one of the available packages – Free, Professional, Premier – add payment details, and you're good to go!
Also, if you want to make things even more convenient, you can download an app available on Google Play and Apple's App Store.
Get a Fax Number
FaxBurner offers you a fax number instantly with the click of a button. With the free plan, you can request a free fax number that lasts up to 24 hours. With a premium account, you can keep your number forever.
The first option is convenient for individual customers who don't send too many faxes online, whereas the premium option is perfect for businesses that need to fax documents often.
Send/Receive Faxes
Finally, you can send or receive a fax in a matter of minutes. To send your PDF file, simply open the app, enter the number you wish to fax to, and attach the PDF document to your message. Alternatively, you can fax your PDF via email. Just use the email or Gmail address you used to create your account, type the recipient's fax number in the subject line, the cover letter notes in the body of the email, and add your PDF as the attachment. You'll even be able to send your online fax to various recipients simultaneously.
And that's about it! PDF faxed without having to use a fax machine.
You'll receive a confirmation of the fax in your email.
In a nutshell, using FaxBurner is a fantastic way to send and receive faxes. It's convenient, effective, and its free trial allows new users to learn how to use it. FaxBurner uses the latest online faxing technology, and if you're looking for top-quality online fax service, choosing FaxBurner is probably the best choice you can make.
Use Software on Your PC
If you have a newer version of Windows (10, 8.1, 8, 7), you can take advantage of awesome built-in fax software. Any version of Windows that's newer than XP has built-in fax software that can help you fax PDF files.
All you need to do is type 'Fax' in the search bar and then find Windows Fax and Scan Utility. However, an important thing to mention is that you need an active landline phone connection to send faxes.
Faxing a PDF using your computer software is almost identical to sending an email. Windows Fax and Scan lets you fill in information for the cover page and add fax numbers to the pages of your PDF document.
As soon as you click the 'Send' button, the software collects all the information needed for the other computer to receive the fax. The whole operation takes only a few minutes, and that includes preparing your PDF to fax, finding the recipient, and clicking 'Send'.
Print and Fax
There's nothing wrong with going old-school and faxing off your PDF with a traditional fax machine, even though the digital method is much more convenient. You'll have to print it and fax it from home, the office, or an office store that offers fax services.
Of course, the longer the PDF, the more paper, ink, and time you'll need to use to accomplish the task. It will also take more time to convert PDF to a fax document.
Another downside is that you might get a bit of PDF degradation due to printing. This is because when you print and scan the document, you lose a bit of quality every time.
Fortunately, this can be rectified by avoiding excessive scanning, especially if it's a very important PDF document.
In conclusion, using the machine is not the best way to fax, especially compared to using an online fax service. Of course, in some cases, you will need to scan and print documents, so it's a skill worth having.
Summing Up How to Fax a PDF
PDF is one of the most used document formats today, especially in the business world. If you find yourself needing to fax a PDF, there are many simple ways to do it. Three great options include:
Use an online fax app or email-based service like FaxBurner;
Fax via included software on your Windows computer;
Print and fax the traditional way.
The first two are the most convenient, allowing you to receive or send fax instantly, without using paper or losing the document's quality. That being said, we highly recommend using online fax services whenever you want to fax a document, especially if you don't want it to lose quality.