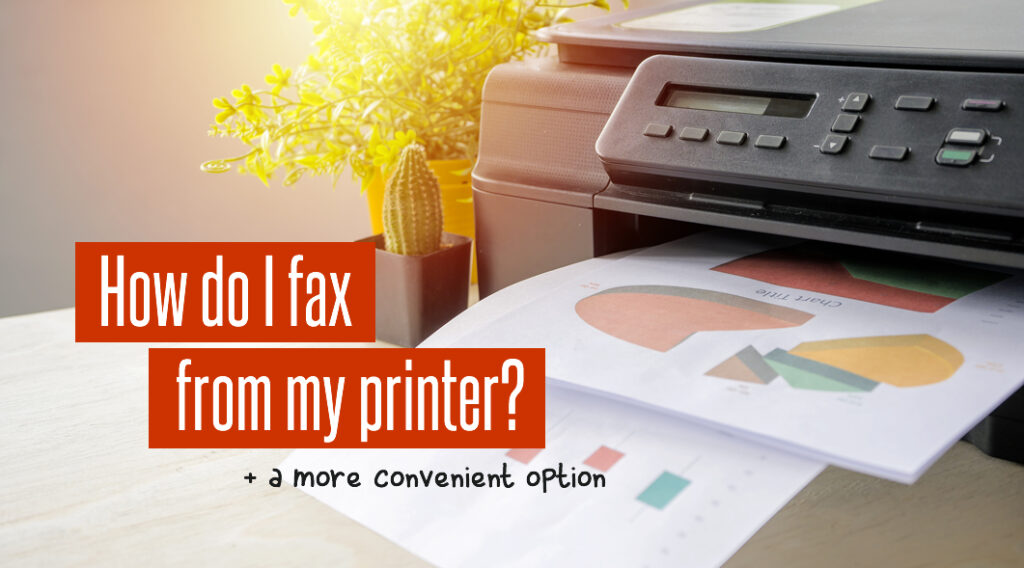 To some, fax machines may already seem like a thing of the past. Many young people don't know how they work. Others know, but don't use them anymore… until they suddenly need to!

That's because there are still businesses, agencies, and other professionals – for example, in the healthcare or law fields – that conduct some or most official communications primarily by fax. And they won't accept email correspondence.
Luckily, there are some easier and more comfortable ways to send and receive faxes that do not require you to go to a business that offers fax services, or equip your home or an office with yet another device. Especially since you already have multiple devices that can be of hand when you want to fax a document.
Many people don't realize that you don't need a fax machine to receive and send faxes. One of the most popular and comfortable methods is to use your printer or an online email to fax service.
But if you have a landline phone line, you can easily find a printer that will perform the tasks of a fax machine as well.
So what do you need and how can you do it?
What Do I Need to Send a Fax Using a Printer?
To send a fax without using a fax machine, apart from an active landline phone line, all you need is a printer with a fax capability. Some devices come with the option and a special fax button; others may have an option to add this feature independently later. So if you have a printer without a visible fax option, all is not lost yet.
If there is no fax button, check your printer for a telephone jack (or two), which will mean that it can be connected to a phone line and used as a fax machine without any problems.
You can also check the product information. Many of the modern printers come with the possibility to have a fax kit installed additionally. To get it done, simply contact a producer or your local office equipment supplier.
How to Send a Fax with the Feeder
Once you have got a fax capability added, you need to turn it on and use your printer just like a regular fax machine, that is:
put your document in the feeder,
dial your recipient's number,
press the send button.
Your fax will be sent as soon as your printer makes a connection with a receiving fax machine. Usually, you will get a confirmation with all the details.
How to Send a Fax with a Print Driver
Apart from the feeder, your printer may also be capable of faxing with its print driver. All devices work a bit differently, but the gist of the process is printing the document you need to fax. When you open the print dialog, you have to select the print driver that should be listed as a fax.
Then, you only enter the fax number of your recipient and click send. Your document will be faxed to the requested fax number.
It also happens that the print drivers of regular printers have this option.
How to Receive a Fax with a Printer?
Most printers that have a fax capability are also able to receive and automatically print the incoming faxes. Don't be afraid if your device has run out of paper. It will hold a document in its memory as long as it's needed and print it as soon as possible.
There are also printer models that will forward an incoming fax to your email.
Can I Fax from My Printer without a Phone Line?
To send a fax from a regular printer, you have to be connected to a phone line, as your device needs to have a fax number assigned. However, necessity is the mother of invention, and it simply wasn't possible for tech companies not to come up with a solution for wireless faxing.
Some of the modern printers allow you to send and receive faxes wirelessly, through a digital process. To provide that, a printer needs to be equipped with a wireless network card.
When you want to send a wireless fax, you have to make sure that your computer and printer are connected to the same network. The good news is that you only need to set it up once; your printer will remember your network's settings in the future.
How do you send a wireless fax?
Set a document in the tray to make it possible to identify on the receiving end,
click the fax setting and enter your recipient's number,
press start – the printer will scan and send the document through the network.
In case your printer doesn't have a fax tray, you will need to scan each page independently. It is time-consuming but entirely possible.
Skip the Printer and Fax Online
Yes, there is an even faster and more comfortable way to send faxes using your computer or smartphone!
FaxBurner offers a free online fax service available to everyone who has access to a mobile device, either iOS or Android-based, or a computer. All you need to do is set up an account via the FaxBurner app or website.
To send a fax, simply request a fax number, which will be assigned to you for the following 24 hours. Once you've got an account and a number, your device will work as a fax machine, allowing you to both send and receive faxes, which are converted into emails, using PDFs, as well as stored on your mobile device and in the cloud.
Premium accounts give you a permanent fax number as well as a higher allotment of pages to send and receive.
The app is highly intuitive. If you want to send a fax, simply click compose a fax, send a photo or a PDF to your unique fax email address with your recipient's fax number as a subject (if you're using your computer or a browser on your mobile device), or fax from the app directly. To receive a fax, use your free number, and you will be notified via the app and your email.
An online fax service is not only more convenient, it's cheaper too. Modern printers with a fax capability tend to be quite expensive to buy and maintain. They also require toner, paper and a monthly phone bill. Like all devices, they are also prone to malfunctions and other errors that can be avoided by taking your faxing online.
Final Thoughts on Printer Faxing
Thanks to the development of technology, your house or office doesn't need a dedicated fax machine to facilitate your occasional fax needs. A printer with fax capabilities will definitely suffice. However, it's not the only option.
Online faxing services through FaxBurner gives you the ability to send and receive faxes with just a computer or an Android or iOS device. This option is less expensive (or free) and requires no additional equipment or accessories. It's the perfect blend of affordability and convenience.