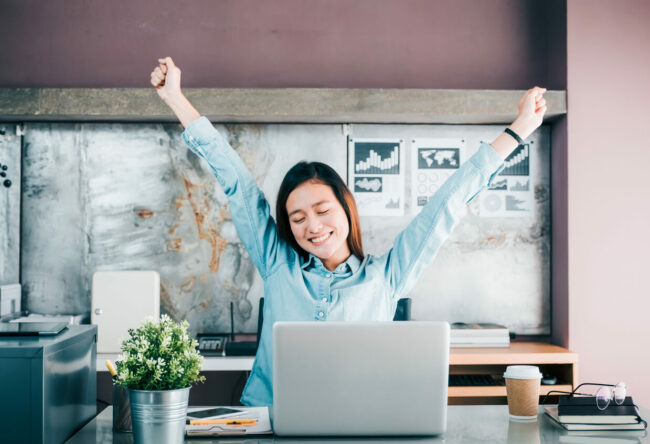 Are entrepreneurs born or made?
The truth lies somewhere in the middle. There is a spectrum for the various types of entrepreneurs that you will meet along your business journey, but people aren't necessarily doomed or bless to be a certain way forever. You can certainly develop skills that help you as an entrepreneur.
At the same time, many qualities intrinsic to entrepreneurs are things you either have or you don't.
Today, we're covering the seven signs picked by the Faxburner team, which show you're born to be an entrepreneur.
1. You Take Initiative
Entrepreneurs are go-getters. They don't necessarily rush into things, but they do take action instead of spending months hoping for the right opportunity.
You'll notice that entrepreneurs aren't the type to suffer paralysis by analysis. They would rather learn by doing than conduct endless research.
2. You Like to Do Things Differently
The entrepreneurial lifestyle is the ultimate rebellion against the norm.
You're saying no thanks to the traditional nine-to-five and instead pursuing your own vision. If you've always preferred not to conform, then entrepreneurship could be the perfect fit.
3. You're Willing to Take Calculated Risks
You can't be risk-averse as an entrepreneur. For any of your ventures to succeed, you need to be willing to risk your time and your money on them.
This doesn't mean you take foolish risks, though. Successful entrepreneurs are smart about the chances they take and do their homework before jumping into anything.
4. You Maintain a Positive Mindset
You'd be hard-pressed to find an entrepreneur who gets very far wallowing in their own misery.
A hallmark of a good entrepreneur is that they keep focused and positive, even when the road gets bumpy.
5. You Set Big Goals
Most people are satisfied with a decent salary and the occasional raise at a job they can tolerate.
Entrepreneurs aren't. They set goals to build highly profitable companies and make a lasting impact.
6. You're Tenacious
In this day and age, anyone can start a business. You can have your own e-commerce store ready in less than an hour if you know what you're doing.
But being able to problem solve and keep pushing when things get challenging? Displaying a willingness to take punches and shake off setbacks? That's not so easy.
That's probably why it's one difference between a true entrepreneur and someone who just likes the idea of it.
7. You're Good with Money
There usually comes a time when you need to spend money to make money, and that's a whole lot easier when you have money to spend. Successful entrepreneurs are good at living within their means and saving money to pursue their passions.
And when they do start a business, they have a really good handle on their numbers. That's critical to running a business.
Wrapping Up 7 Signs You Were Born to Be an Entrepreneur…
If you're wondering whether entrepreneurship is right for you, there are several signs that can help you find out. To recap, here are seven entrepreneurial traits that might suggest you were born to be an entrepreneur:
You get things started instead of waiting for the right moment.
You're not content with the norm.
You're daring without being reckless.
You believe the odds are always in your favor.
You set your sights higher than most people would ever consider.
You don't give up easily.
You can handle finances well.
As we mentioned, whilst entrepreneurship is a mindset that not all of us are born with, that doesn't mean it isn't a muscle that we can't grow. As with many aspects of our life, the environment we live in and discipline we have can allow us to grow out our potential far beyond what anybody could imagine.
Part of this process involves managing your time effectively, being able to prioritise exactly what is the most important step to take and organise your efforts to be able to attack those opportunities as efficiently as possible. If you are looking to hone this skill, then take a look at our time management tips for budding entrepreneurs.