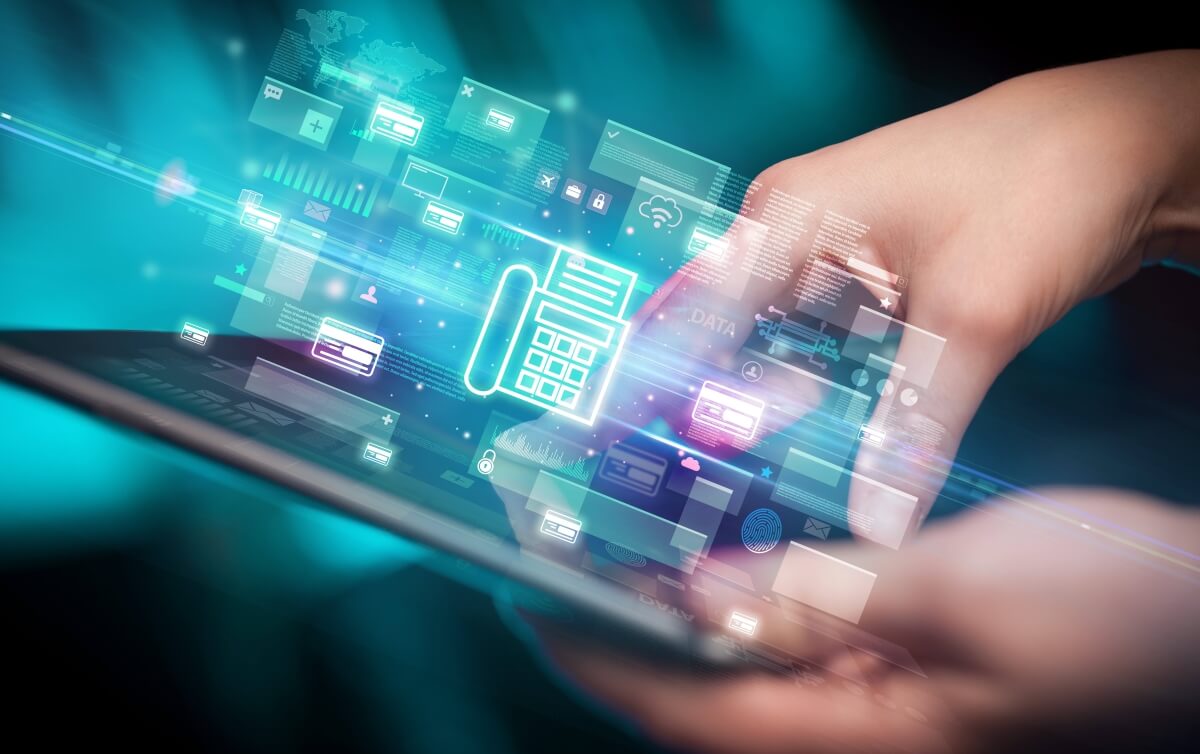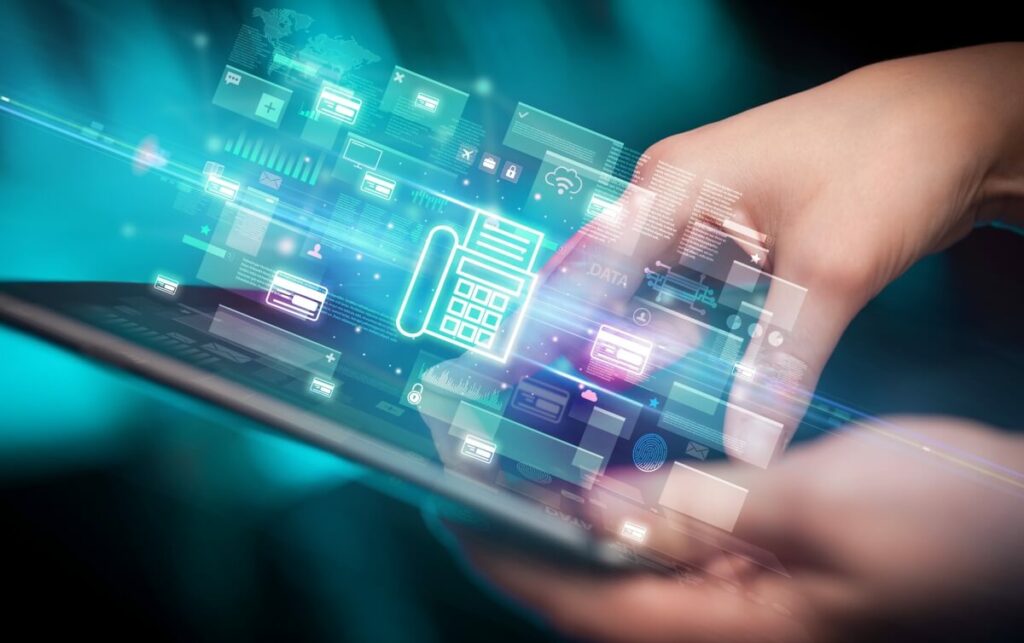 Faxing is still thriving. However, instead of obsolete bulky fax machines, now most people use online fax services for sending and receiving documents.
Digital fax services have plenty of advantages including secure data transmission, cost efficiency, easy file management, sustainable solutions, and convenient faxing anytime. For these very reasons, faxes prevail over email and file sharing. 
So, what exactly is a cloud fax service, and what are its benefits?
What is a Cloud Fax Service?
In times, when no one wants to mess with papers, bulky equipment, and expensive running costs when sending documents, cloud faxing is an excellent solution. It helps to send and receive documents at the speed of light, efficiently, and without extra fees and bulky hardware.
A cloud fax service is a cloud-based modern faxing technology that allows you to send and receive faxes from any ERP, desktop, or business application securely and hassle-free.
To deliver faxes via the cloud fax service, one needs neither a fax machine to function nor a connection to a dedicated phone line. All that's required is an Internet connection and any device that has access to the Internet.
By using only your smartphone or computer and choosing any platform you like including Android and iOS mobile platforms, you can fax from anywhere with little effort.
What are the Various Types of Cloud-Based Fax Services?
When talking about the different types of cloud-based fax services, there are three main levels. The choice will depend on your business, the frequency of use, and whether you need it to be integrated into back-end systems or applications.
Free Cloud Fax Service
An initial level cloud fax service, free cloud fax service is most suitable for single users who rarely use faxing for sending and receiving documents.
Free cloud fax services are available on multiple online portals enabling users to quickly and easily send faxes without spending any money.
Mind that it's not designed for those that send faxes regularly.
Cloud Fax Service
A basic cloud fax service offers a straightforward faxing solution, with pricing options including pay-as-you-go and a low, flat monthly charge for a set amount of faxes available each month.
Users typically send and receive faxes via their email accounts. The cloud service provider usually offers a limited amount of cloud fax numbers along with some optional extras like inbound toll-free fax numbers.
Enterprise Cloud Fax Service
An Enterprise cloud fax service is the most advanced of the three. It's a must for big corporations and enterprises, where faxing is an integral part of the business.
The service provides scalable platforms that can address large teams. Next-level security is crucial here. Enterprise cloud fax service offers the highest security measures to protect fax transmissions. With password protection and 256-bit, SSL encryption one can forget about hackers or cyber attackers and confidently send even the most sensitive data.
Benefits of Cloud Fax Services
Cloud faxing is an extremely fast, efficient, and convenient way of transferring information. Without relying on fax machines, one can send and receive documents at the speed of light. So let's discuss the key benefits of cloud fax services.
Accessibility
Through a cloud fax service, one can send and receive faxes with any device such as a PC or Mac.
You just need to install a cloud fax service on a PC, for instance, using an application or fax software.
Additionally, the majority of cloud-based faxing solutions sync data automatically. There is no need to manually transfer files from one device to another. One can even set up fax software on several computers.
Thus, your employees will be able to send and receive faxes right from their workplaces. Less waiting means more time to concentrate on other crucial tasks.
Cost-Reducing
With a cloud fax service, you don't need to spend a fortune on expensive faxing equipment or waste time and money on purchasing paper, ink, and other maintenance for the hardware. Cloud fax service makes the whole process extremely cost-effective.
Thus, you have an opportunity to use your budget for other business needs including important projects, product promotion, etc.
Enhanced Security
Security is fundamental in cloud fax services. This factor is crucial when choosing to fax over other methods of transferring information, especially for businesses.
Secure online cloud faxing is the best method for exchanging sensitive data and confidential information which will always prevail over emails. Being vulnerable to hacking attacks, emails are an easy target for hackers. It's no surprise that cloud fax service remains on top whether you're faxing for business or personal purposes.
With advanced military-grade encryption, secure solutions are guaranteed.
Sustainable Choice
Cloud fax service is an extremely sustainable choice. With a tremendous increase in carbon emissions, we need to put all our efforts into saving the environment. Going paperless is a necessity.
By switching to cloud faxing, you take a step towards more eco-friendly business practices.
Why Should You Use a Cloud Fax Service Like FaxBurner?
FaxBurner is one of the leading cloud fax services on the market. Whether you are a single user, a small, or a large business owner, this online fax service is tailored to meet everyone's needs.
First, FaxBurner doesn't pressure you into paid plans at once. You have a great opportunity to take advantage of testing a free package without paying any extra fees. The free plan includes sending up to five pages and receiving 25 pages per month. You also get a temporary fax number available for up to 24 hours before expiring.
Also, no hacking attacks are feasible with the exceptional layer of protection provided by FaxBurner. Due to their TLS (Transport Layer Security) protocols, all your faxes are guaranteed to be secure.
What is more, with FaxBurner, the cloud faxing process is particularly easy and convenient. All you need to do is download their app from your app store and create an account there. That's it. You've just turned your device into a fax machine and can start sending faxes immediately.
When using FaxBurner you can be sure that your confidential information is safe and secured. In case you have some additional questions, go to our FAQ section and find all the answers there.
The Bottom Line
In today's digital era, businesses and enterprises must be particularly flexible to adapt to modern needs. With a cloud fax service, you can easily lure more customers while keeping up with high-volume faxing demands.
As cloud fax services vary, you should choose the best service provider that will suit all your needs and requirements. The key factors in selecting the best one are security, reliability, cost-efficiency, and a great choice of features.
Try FaxBurner. It's an excellent solution with excellent features. Before going on with one of the paid plans that offer exceptional opportunities, try a free package and test this great fax app. Check it out now and enjoy a reliable and affordable cloud faxing solution.