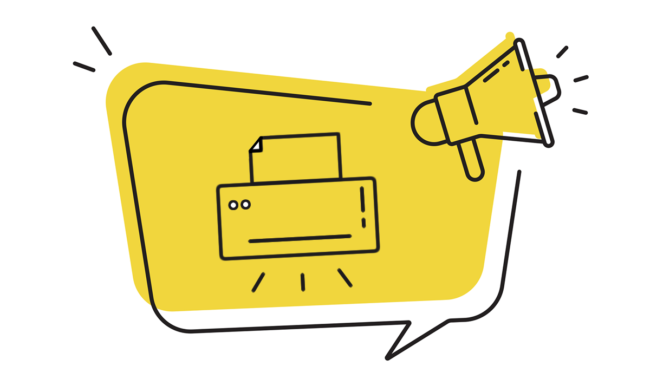 Are you wondering, "can I send a fax using Google Voice?"
Short answer, "yes."
But it's fairly complicated.
That leaves some to question whether it's really their best option.
Firstly, it's important to know that your Google Voice number is VoIP (Voice over Internet Protocol). That means it doesn't have the capability to fax directly, or through an online fax service or app. Instead, you have to use a workaround.
The process takes time, and is not always straightforward. If you need a quick, solid alternative, consider using a ready-to-go service like FaxBurner, which gives you a fax number, and lets you use your phone or email to fax.
To help you better understand the process of faxing using Google Voice, we've outlined the steps to take below.
Using Google Voice With a Fax Machine
One way to use Google Voice to fax is in conjunction with a fax machine.
Of course, that means you must either have access to a fax machine, or you must purchase one. That's a bit counter-intuitive as this also assumes you have a landline from which to fax. Nevertheless, if you want to send a fax over a machine using a Google voice number, you can.
Here's what you need:
An active Google Voice account and phone number.
An adapter to connect your landline phone to a USB port on your computer. Make sure this adapter is compatible with Google Voice.
A computer with a fax modem, or a dedicated fax machine.
Next Steps to Send And Receive Faxes Via Fax Machine
These steps are pretty proprietary. They will depend largely on the adapter you purchase, your fax machine, and other factors. You'll need to consult the manual on the adapter that you purchase. If you use a fax modem, you might need to adjust the settings on that as well. Think of these as some general steps to get you started on faxing from Google Voice.
Plug your landline phone into your adapter, or the fax machine if that connects directly.
Read the instructions that come with the adapter you've purchased. Every adapter works just slightly differently.
Test the connection by connecting a landline phone to the adapter. See if you can send and receive calls using your Google Voice number. If this doesn't work, refer back to your adapter or call customer support.
Unplug the landline phone, and plug the USB adapter into your fax machine. You may want to test the fax machine handset if it exists.
Try to send a fax to someone as a test. You can also ask them to send a fax back using your Google Voice number.
Begin making adjustments to the fax machine itself if you aren't receiving faxes or able to send them. You may have to adjust the baud rate or the error correction mode. Here, you will have to refer to your fax machine documentation, or contact a service provider.
Repeat the steps above as needed until you can send and receive faxes.
Using Google Voice With Fax Apps
If you want to use Google Voice with an online fax service, you'll have to go through a process of exporting your number.
There is a fee associated with this however.
In addition to that, many online fax providers will also charge you extra for using a custom number, and not one that they generate for you.
Faxing with Google Voice Alternative
Fortunately, you can send and receive faxes using the Gmail account associated with your Google Voice number, without actually using Google Voice at all.
For most people, the simplest solution is to use an online fax service. By signing up for such a service with your Gmail account, you can use that email address to manage your faxing needs. This will allow you to send and receive faxes via mobile app, email, or on your computer. You can also receive notifications in your Gmail account when faxes are sent or received.
FaxBurner's online faxing service is a great choice – and offers both free and paid account levels depending on your faxing needs. Sign up with your Gmail account (or any email address) today.