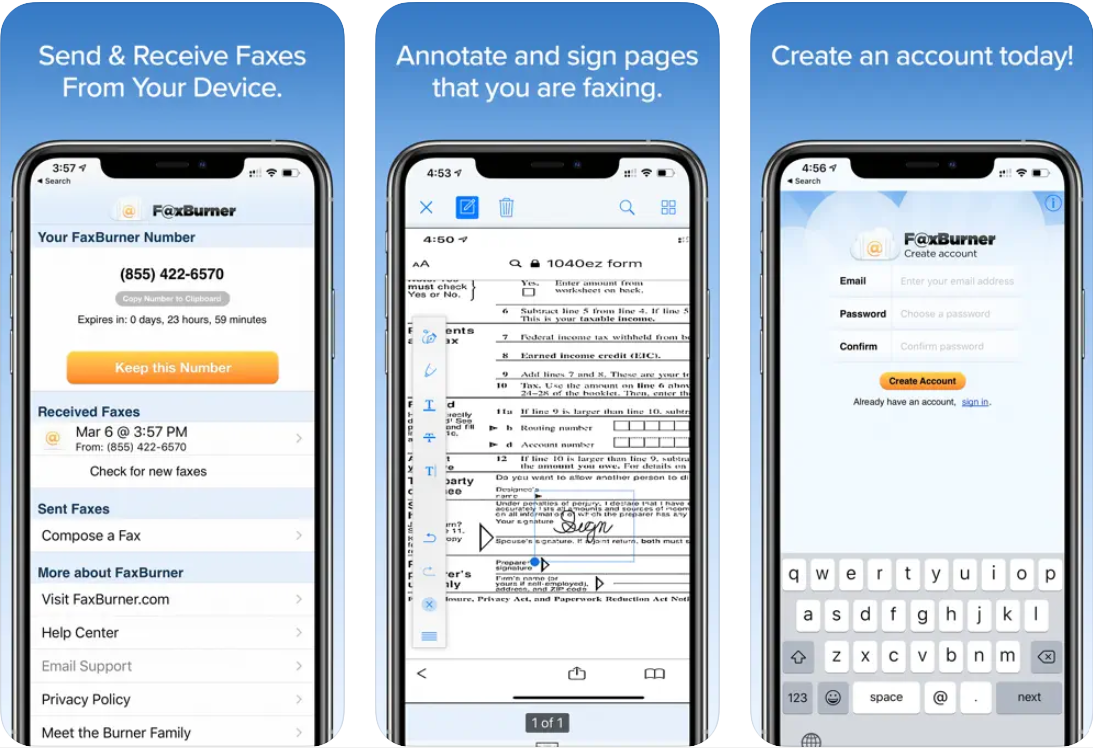 For most people operating in the modern world, faxes are considered a rather outmoded communication method that's strictly relegated to the corporate world.
However, it is important to acquaint oneself with fax. Here's why.
Fax is still widely used, and many of us find ourselves needing to receive, sign, or send a fax every now and again. Without a fax machine (and hoping to avoid a trip to a copy shop), it would be nice to have a fast and painless option to turn to.
The good news is that many technological developments have been made to make faxing more accessible.
In fact, it is even possible to send or receive fax messages through your iPhone these days, thanks to the advent of online fax services. This comes as especially good news to loyal Apple users, who have probably had a hard time with the software's faxing abilities, which have always left much to be desired.
So, how do you fax from an iPhone? Let's take a look!
HOW TO SEND AND RECEIVE FAXES FROM IPHONE
Once you have access to the service, you'll be able to choose your sending method from a number of options, including an app and email. Let's have a look at each of them.
IPHONE APP

It is now possible to send a fax from your iPhone with our iOS app – Fax Burner: Send & Receive Fax. You can download the application for free from the iPhone's App Store.
Step 1: Register Your Account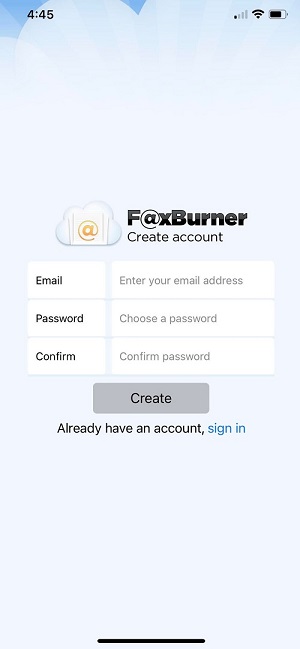 Fax Burner offers free fax service as well as paid plans. Our options include a Free Package, Professional, and Premier. Regardless of which one you choose, your account will have a fax number. Both plans feature either a temporary or permanent number for you to pick.
To get a fax number, you need to register your account. Fax Burner asks for minimum information: email address and password.
You get a free 24-hour fax number any time you want one with one tap. If you want to keep your fax number, you may upgrade to one of our premium plans for increased inbound and outbound capabilities. Either way, you get many features, and it gets the job done quickly and easily.
Step 2: Prepare a Fax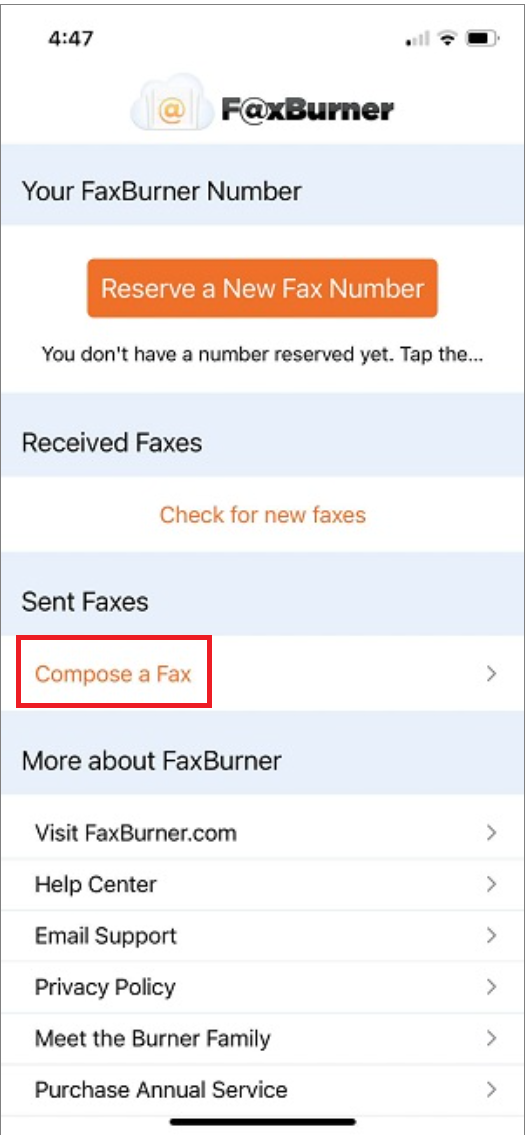 The Fax Burner app is intuitive and simple. Having such an app is definitely handy, especially when you don't own a fax machine but still need to send confidential documents.
To send faxes, you need to tap on 'Compose a Fax.' Another window will pop up on your screen which looks like the image below.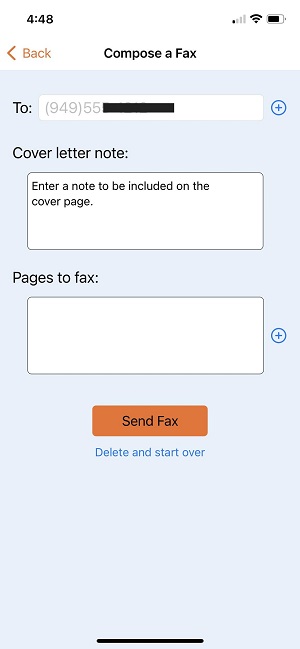 There are three lines that you need to fill out:
Recipient's contact information (the recipient's fax number),

Cover letter note,

Pages to fax.
Step 3: Sign a Fax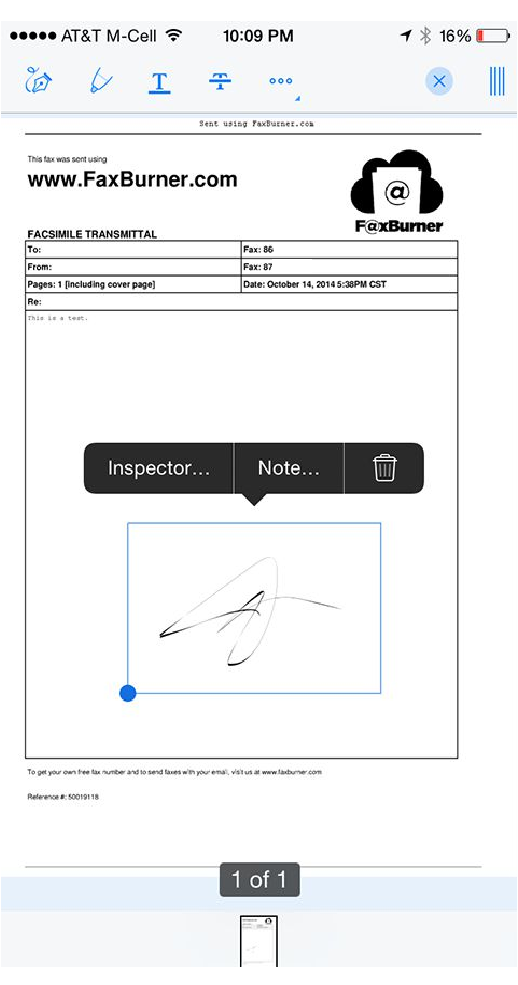 A fax machine was created with the idea of sending documents in a way that no one could steal them. Digitalized faxing eliminates the device but enhances protection. Without a fax machine, it is actually faster to receive faxes, annotate them, and immediately send them back.
Needless to say, FaxBurner has this and other features for both free and paid accounts.
Now you can receive important contracts, sign them at that very moment, and send them back to finalize the deals. Business can be done faster with FaxBurner.
Step 4: Attach Documents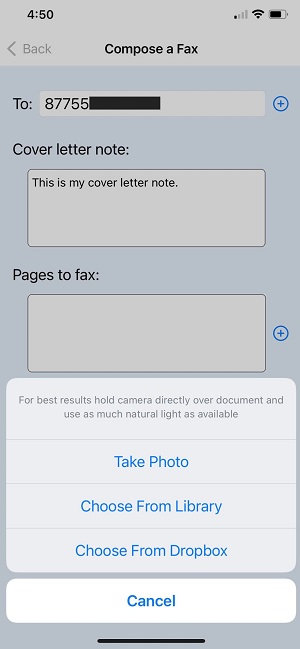 You have a couple of options of how to add a file:
Take a photo

Chose a file from the file library

Choose a file from Dropbox
You can scan a physical document in seconds. Ensure you have good lighting when taking a photo, the quality will be higher and the text more visible. You don't have to take a close-up photo — instead, snap a regular photo and then crop it in the application.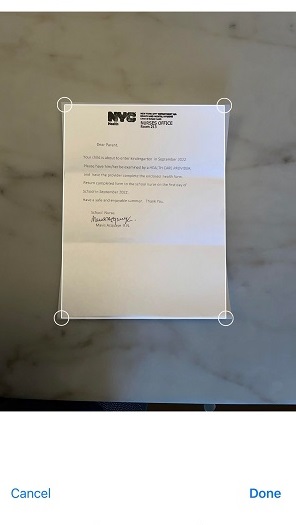 Adding new files or removing them can be done with a tap on your screen. You can always retake the photo or edit it before sending a fax.
Step 5: Send Fax
Before you tap "Send Faxes," double-check the recipient's number, proofread the cover letter note, and make sure you have added the correct documents to fax.
Step 6: Keep track of Faxes from the iPhone app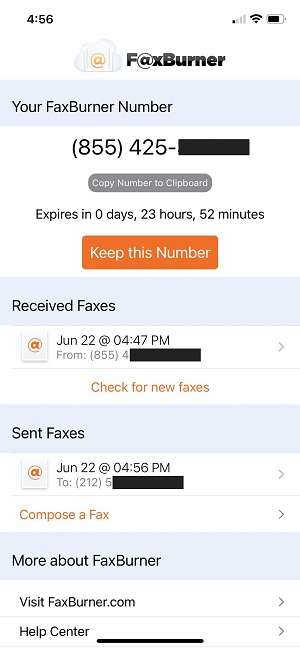 The Fax Burner app shows all the important information in one place. It contains:
Your fax number (if you have a free number, the expiration time is also displayed)

Received faxes (including date, hour, sender's fax number)

Sent faxes (including date, hour, recipient's fax number)
EMAIL
In addition to sending a fax through the app, you can send via email on your iPhone or other iOS device as well.
Just use the email address associated with your FaxBurner account and send an email to send@faxburner.com. The number you're faxing to goes in the subject line. The cover letter content goes in the email body, and the JPG or PDF attachment contains the fax. It's that easy!
THE BEAUTY OF ONLINE FAX SERVICES
Having an actual fax machine isn't a must anymore. Both businesses and individuals can send faxes on the go in a matter of a few minutes. Your iPhone is a tool for communication that can also obtain a new role as a portable fax machine.
Online faxing is effortless. You don't have to plug any cables into your dusty telephone just to get a dedicated fax number. At Fax Burner, you receive a temporary or permanent toll-free fax number. You can scan, edit, receive, and send faxes through your iPhone or iPad, or also your MacBook.
The beauty of online fax service isn't only that it can work without the conduit of a phone line, but it's also about convenience. It gives you the mobility to send and receive faxes from virtually anywhere in the world.
You can do all kinds of convenient things like take photos of documents, sign documents using your finger, attach files, add cover page copy, and more.
IPHONE FAXING REQUIREMENTS
In order to set up an online fax service and start faxing from your iPhone, you'll need to make sure that your device has a reliable internet connection, regardless of whether you're using Wi-Fi or data.
Other necessary requirements for this service include getting a subscription of your choice, which you are able to get tailored here on FaxBurner. Lastly, you'll need the document which you'll be faxing.
While there are a number of paid subscriptions available at different price points, there is also a free account that lets you send 5 pages (lifetime) and receive 25 pages of faxes every month!
SEND FAXES WITH YOUR IPHONE NOW 
Sending and receiving faxes has been made much simpler than having to rely on fax machines. Whether it's through an app or your email, you are now able to send and receive faxes from your iPhone through FaxBurner's free fax service.
Or, for regular fax users, a monthly or yearly subscription will give you all the sending and receiving you need without having to rely on a fax machine or phone line. Give it a try today!