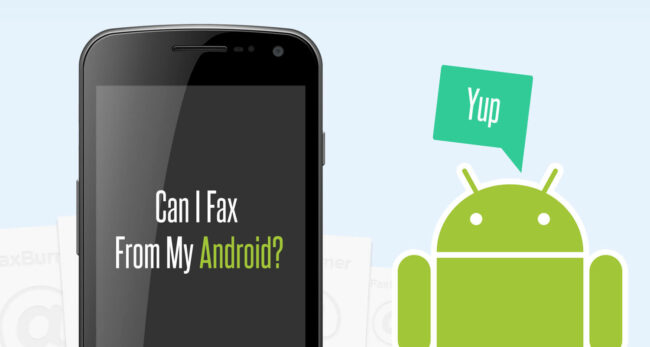 Our increasingly paperless world has decreased the significance of faxing. If a person needs to send a document, they can simply do it via email or cloud. However, in the last few years, faxes have yet again become an important business tool. All thanks to the online faxing.
Nowadays, you don't need a physical fax machine to fax documents. You can send them using your computer, mobile phone, or tablet. All without using a single piece of paper. How great is that?
So let's say you're on the road one day and you find yourself needing to send a fax. Fortunately, there are services like FaxBurner, which operate as a virtual fax machine, allowing their users to send business and personal files wherever and whenever they want.
Better yet, they're accessible with nothing more than your Android phone. Of course, you'll need to register an account or download a dedicated app first. But let's not get ahead of ourselves. Let's take a deep dive into mobile faxing and learn how to send and receive faxes via your Android smartphone.
ANDROID FAX SERVICES
Online fax services work as dedicated fax numbers hosted by a particular service provider. One of the primary benefits is that such services can be used to either receive or send faxes by merely using a tablet or a phone, computer, or email.
By contrast to conventional fax machines, online fax doesn't rely on a dedicated phone line available in your house, as they offer the capacity to manage or access communication from anywhere in the world. All they require is a reliable internet connection.
The best part about them is that you can use the same account to send or receive faxes from any smartphone. It doesn't matter whether you use Android or iPhone. Most reliable fax apps support both operating systems. That way, they ensure flexibility and convenience.
Additionally, interfaces are relatively similar to a web-based email account. They also come with the same features. In other words, the transition is quite smooth and accessible to anyone. You can also scan a fax using the camera feature on your device and then send it to the recipient.
HOW TO FAX FROM ANDROID PHONE
When it comes to the process of sending a fax, it will all depend on the service you're using. Keep in mind that there are many mobile fax providers, and each can come with different features. Nonetheless. As a general rule of thumb, it can be done in a few ways, including:
App
You can download the Android app from the Google Play store for free. Similar to the conventional way of sending a fax, you enter the destination number, add coverage page comments, and attach your file from your device, Dropbox, Google Drive, or by using your phone camera as a scanner.
Email
With FaxBurner, another option is to use your email. To send fax pages using your email, you'll have to send your message to – send@faxburner.com. For that, you'll need to:
Put the fax number in the subject line
Add cover sheet in the email body
Attach the document you wish to fax as a PDF
All from your Android email account and without even opening an app.
As you can see, both methods are incredibly straightforward. Just choose the option that you believe suits you more, and enjoy sending documents via your mobile fax machine.
HOW YOU CAN RECEIVE A FAX
Just as with the process of sending a fax, you can receive your file through an app or email. Regarding the online fax service, you will have the service provider acting as a host for the fax infrastructure.
Instead of a physical machine, the fax service routes what the sender is putting through to your cloud-based account – accessibly by phone, tablet, or computer. Typically a copy is also sent to your email as well, with the fax as an attachment. That way, you can ensure the recipient has got their fax.
Even more convenient is that your Android fax app lets you view, edit, and sign faxes and send them back. All without printing. All that makes mobile faxing cost-efficient, fast, and reliable. The three things every business owner wants to hear.
WHAT YOU WILL NEED TO SEND AND RECEIVE FAXES
To complete the process without any problems along the way, you will need to have an Android phone with either active and stable data or an internet connection – whether it is cellular data or WiFi.
An excellent piece of advice is installing the latest software version, helping with any app compatibility issues. Afterwards, you will need to find a free service, if available, or choose a subscription to an online fax service of your choice. Once that's done, just choose your document and then you're all set.
FaxBurner offers its customers two options. You can either use a free fax account or pay for a subscription. The first option is great for individual clients who don't send faxes very often. The latter will work brilliantly if you're a business client that sends hundreds of faxes per month.
Once you pick your option, install an app, and take advantage of mobile faxing.
SUMMING UP HOW TO FAX FROM ANDROID
And that's about it. As you can see, faxing documents using your Android mobile device is fast and efficient. It doesn't matter whether you're running a company that sends thousands of faxes per year or just an ordinary user who needs to send fax occasionally. Options exist for both types of users.
The process is very simple, user-friendly, and reliable. The best example of such a service is FaxBurner that lets you send and receive faxes from your smartphone. You can sign up for a free account here and see for yourself how simple sending faxes can be.
However, keep in mind that while many apps are free, you may need to subscribe to unlock premium features. Still, when you compare it to the costs of paper and fax machine maintenance, this option will look like a bargain.
The future of faxing is here. Don't be afraid to embrace it!