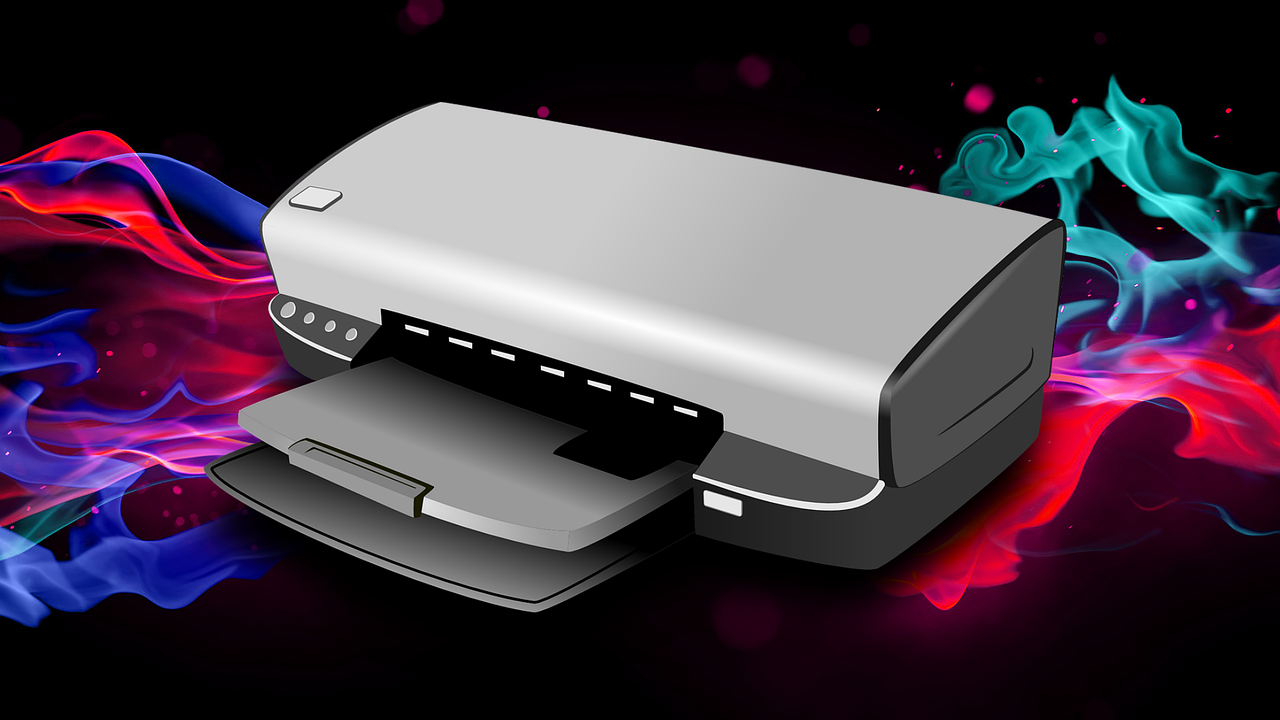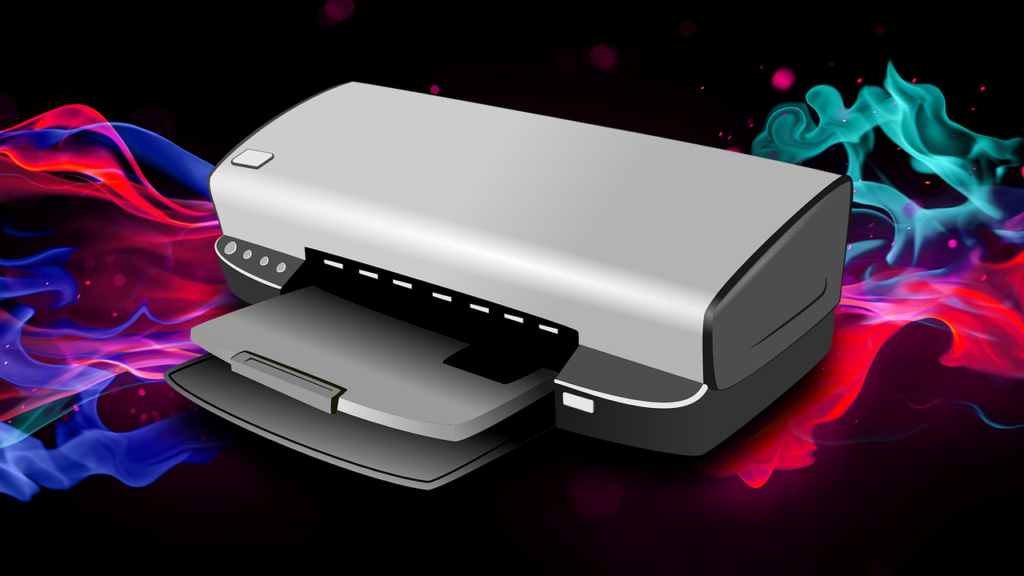 Cheap fax machines are ideal for small office tasks or personal use. The best fax machine for your needs will depend on your required features and how much you're willing to spend.
We'll take a look at some of the most popular models on the market and provide some tips on the key features to look for. If you're looking for a basic fax machine that won't break the bank, we've put together this ultimate guide for 2022.
Online Fax Service vs. Fax Machine
Before we explore the best cheap fax machines on the market, have you considered the fact that you might not really need a fax machine?
With the advent of online fax services, it's now possible to send and receive faxes without ever having to print out a single sheet of paper. You can simply send and receive your faxes online. This is an excellent option if you're looking for a more environmentally friendly solution.
Online fax services are generally much cheaper than traditional fax machines and, in some cases, even offer free plans for very light users. So, if you're on a budget and don't need to fax very often, an online fax service should be an option.
It will also save space at home or in your office as you don't need a physical machine. In addition, you will benefit from the flexibility of using any internet-connected device to send or receive a fax. Faxing securely from a smartphone can be a game-changer for small businesses and individual professionals working remotely.
Think about how you plan to use your fax machine before making a purchase and if online faxing might be a better choice.
Our Top-Rated Cheap Fax Machine
A low-priced machine like the Canon PIXMA TR4720 is a great option for budget-conscious individuals who still need to fax occasionally. It offers simple operation with few frills, and it's one of the most affordable fax machines on the market. Not only that, it doubles up as a scanner and printer, all for under a hundred bucks! You can read more about this fax machine in our best cheap fax machine reviews below.
Best Fax Machines at Affordable Prices
Here are our top picks for the best cheap fax machines on the market. We've been in the fax game for a long while now and can separate the wheat from the chaff when finding a quality machine at an affordable price.
Canon PIXMA TR4720 All-In-One Printer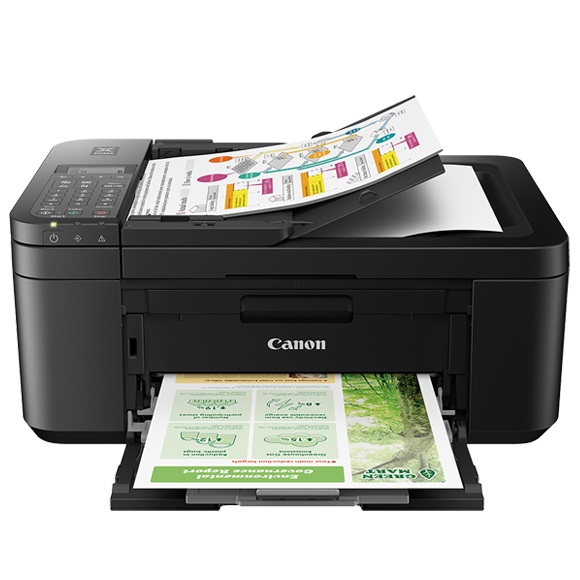 The Canon PIXMA TR4720 is an all-in-one printer designed for home office users. It offers print, scan, fax, and copy capabilities in a compact package.
The fax machine has a modem speed of 33.6 kbps and can transmit at a rate of 3 seconds per page for black print and a minute for color. It has a memory capacity of around 50 pages and offers features that include speed dial, answering machine connectivity, and more.
The printer has a 4800 by 1200 dpi printing resolution and can print at speeds of up to 8.8 ppm. It also has a 100-sheet paper tray and duplex printing. The scanner has an optical resolution of 600 by 1200 dpi and can scan at speeds of up to 3.5 ppm.
This is an easy-to-use device, with a lot of features for its low price, hence why we chose it as our top pick.
Canon FAXPHONE L100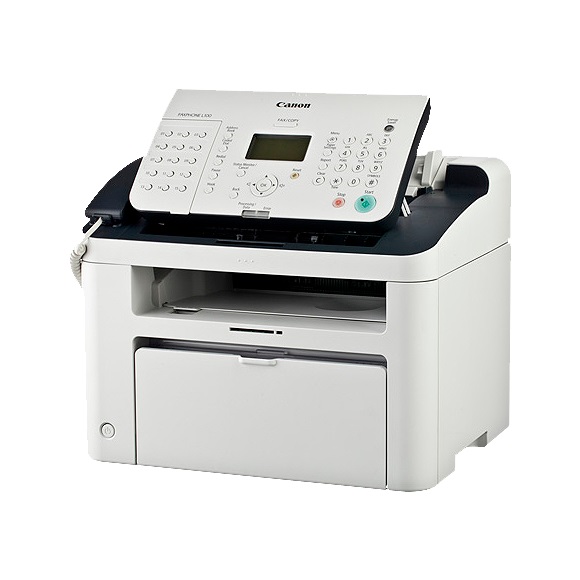 Sticking with Canon, we have the Faxphone L100 on our list. This monochrome laser fax machine offers a variety of features at a reasonable price.
The machine has a modem speed of 33.6 kbps and can send documents at a rate of 3 seconds per page for black print. It also has a memory capacity of 512 pages, which is great for small offices. Other features include 30 one-touch speed dials, 100 coded dials, Auto Redial, and Manual Fax Forwarding.
Look no further if you are looking for a fax machine that also offers high-quality laser printing and digital copying. The only downside is that it only prints in black, so it's not ideal for those who need color.
HP Envy Pro 6458 All-in-One Color Inkjet Printer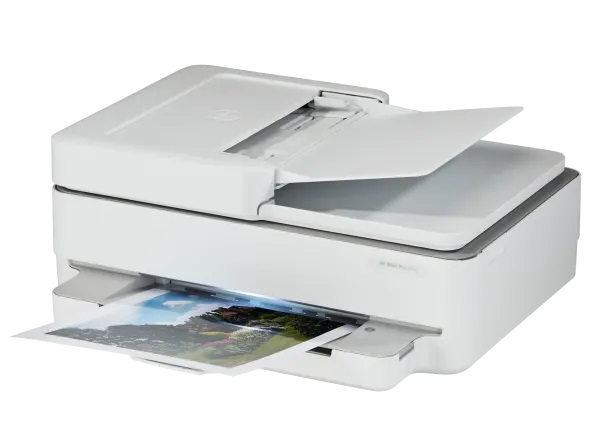 Although Hewlett Packard is better known for its laptops, the HP Envy Pro 6458 is a budget-friendly all-in-one fax machine that offers a lot of features for its price tag. Setting up the machine is simple, and the clear control panel makes it easy to navigate. In addition, the Pro 6458 comes with a variety of time-saving features, such as an automatic document feeder.
Using this wireless device in combination with the HP Smart app, you have the flexibility to send and receive faxes from your desktop or laptop computer, as well as while you are on the go from your smartphone or tablet.
The only negative of note with this all-in-one machine is that it doesn't offer duplex printing.
Brother intelliFAX-2840 Laser Fax Machine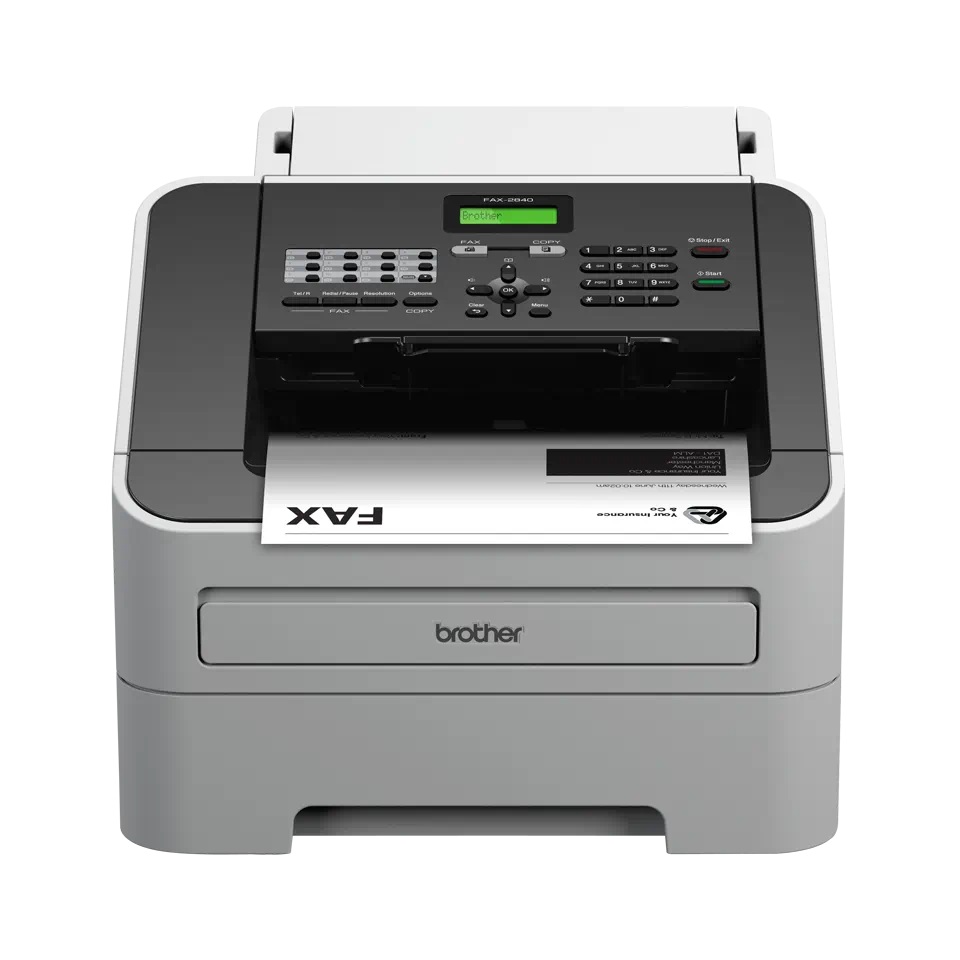 While the Canon PIXMA TR4720 was our top choice due to its affordability-to-feature ratio, if you are looking for dedicated laser fax, don't pass this one over. The modem speed is 33.6 kbps transmitting at 2.5 seconds per page, with a 200 x 300 dpi and memory for up to 400 pages.
One of the features that stands out with this fax machine is that you can send the same fax to multiple numbers simultaneously. A downside to the Brother 2840 is that it doesn't have an auto-duplex capability for incoming faxes. So, where you could potentially save money (and the environment) by receiving a double-sided document, it only prints on one side.
Canon TR8620 All-In-One Printer for Home Office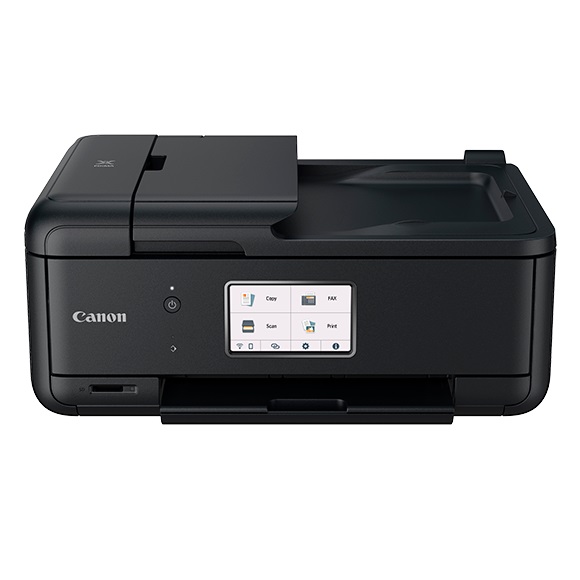 This is by no means the cheapest option we have reviewed here, but it does offer excellent value for your money. The TR8620 is an all-in-one home office printer that offers print, scan, copy, and fax.
As is fairly standard with these affordable Canon all-in-one machines, the Modem speed is up to 33.6 kbps, with a super fine resolution of up to 200 x 400 dpi and transmission time is approximately 3 seconds. The memory capacity is up to 512 sheets.
It features automatic two-sided document printing and mobile device printing, so you save money and do your bit for the environment by using less paper.
CimFAX A5 Paperless Fax Machine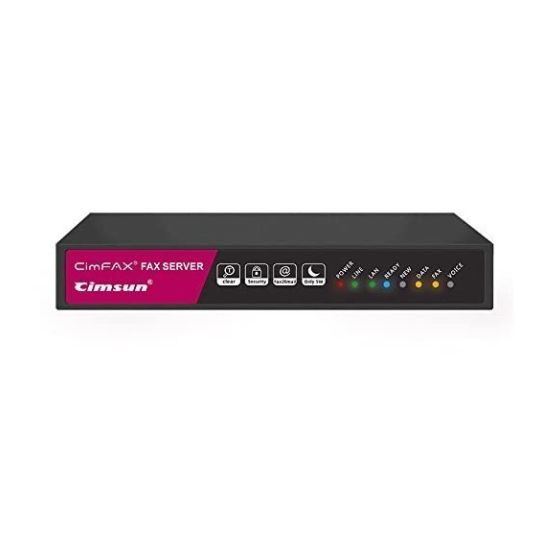 This one is a little different from the other fax machines we have reviewed, offering a digital solution similar to an online fax service. It works with Windows and mac computers, and if you want to send or receive faxes remotely with iOS and Android smartphones.
It only offers fax capabilities, but this small fax machine won't take up as much space as the larger models we've looked at. It also has a memory that impressively can store up to 5,000 pages. However, the modem speed of 14.4 kbps is nothing to write home about.
Brother MFC-J4335DW INKvestment-Tank All-In-One Printer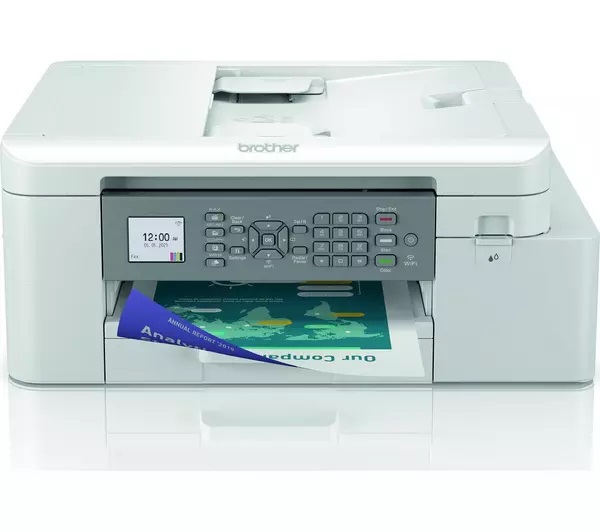 The Brother MFC-J4335DW's main claim to fame is that the INKvestment-Tank system holds more ink than traditional cartridges, so you can print more without having to stop and replace them as often. So, if you want to fax documents and you need to print a lot, then it could be the machine for you. It also works with Alexa if you want to use voice commands.
Brother FAX-575 Personal Fax, Phone, and Copier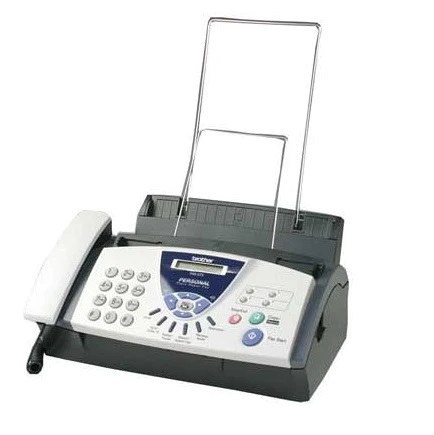 The Brother FAX-575 is a personal fax machine with a built-in phone, so you can make voice calls and send and receive faxes.
Brother is a solid brand, but this is one of their older models, so while tried and tested, it doesn't have the capabilities of some of the other cheap devices we are reviewing. The modem speed is 9.6 kbps, and it transmits at around 15 seconds a page depending on the content, its memory storage is up to 25 pages, and it has a paper capacity of 50-sheets.
So, there's nothing really impressive about the Brother FAX-575, but it is a robust and easy-to-use machine that should stand the test of time.
Fax Machine Buying Guide
Here are a few considerations to help you choose the best fax machine for your home or small business.
Types of Fax Machines
Inkjet or Laser Fax Machine
When it comes to fax machines, there are two main types: inkjet and laser. Both have their own advantages and disadvantages. Inkjet fax machines are generally more affordable than laser models. However, the downside is that they tend to have lower printing speeds and poorer print quality. Laser fax machines offer faster printing speeds, and the print quality is better than inkjet.
If you are just sending faxes from time to time and want a lightweight machine that you can easily move around, an inkjet fax machine is a good option. If your fax demands are higher and you need a machine that can cope with a higher volume of documents, go with a laser fax machine.
Standalone or All-In-One Printer
Once again, to make it simple, your choice boils down to two options. Standalone fax machines are dedicated solely to faxing, making them very easy to use and affordable. These types of fax machines are a great option if you only need to send occasional faxes. The main downside of standalone fax machines is that they don't have the ability to print or scan documents. That's where the all-in-one printer comes into play. These machines can print, scan, and fax documents.
What to Look for When Buying a Fax Machine
Now that you know the different types of fax machines on the market, it's time to start shopping. Here are a few things to keep in mind as you shop for your new fax machine:
Features
Consider the features that are important to you. Some features that you may want to look for include the ability to send and receive color faxes or if you can send faxes over the internet.
Brand
There are a handful of reputable brands that manufacture fax machines. The models we have reviewed are from brands such as Brother, Canon, and HP, all of which have a reputation for quality products.
Ease of Use
You'll want to find a fax machine that is easy to set up and use. The best fax machines have an intuitive control panel and clear instructions.
Transmission Speed
The transmission speed is the time it takes for the fax machine to send or receive a document. The faster, the better, but most cheaper fax machines have similar transmission speeds.
Paper Capacity
The paper capacity is the number of sheets of paper that the fax machine can hold. If you plan on sending or receiving large documents, you'll want a machine with a higher paper capacity.
Memory
Memory is the amount of space the fax machine has to store documents. The more memory, the more documents you can store on the machine.
Resolution
The resolution is the number of dots the fax machine can print per inch (dpi). The higher the dpi, the better the quality of the faxes. You can't expect laser sharp resolution from cheaper fax machines, but they should be perfectly legible.
Cost
Of course, the cost will always be a factor, and as you've arrived at a guide to cheap fax machines, you're likely looking for a budget-friendly machine. That said, be sure to consider all the features you need before settling on a machine. A lower price tag doesn't always mean a better deal.
How Much Does a Fax Machine Cost?
Fax Machines vary hugely in price depending on their capabilities, you can pick up a basic model for as low as $50, but at the other end of the scale, there are high resolution, business fax machines with super-fast print speeds that can cost over $1,000.
Cheap Fax Machines – $50 to $300
A cheap and cheerful model will probably do the trick if you send faxes infrequently or only need to fax simple documents. These machines tend to have fairly low resolution, slower print speeds, and smaller paper capacities. Still, with technology evolving so fast, you can even pick up a laser printer with multi-function capabilities (printing, scanning, copying, and faxing) for a very reasonable price.
Mid-Range Fax Machines – $300 to $600
If you need to send faxes regularly or want to be able to fax high-resolution documents, then you'll need to spend a bit more and buy a mid-range machine. You can expect sharper quality and faster printing. You can also expect plenty of connectivity options and extra features you won't find on the cheaper fax machine models at this price.
High-End Fax Machines – $600 and Up
If you're running a business that relies heavily on sending faxes, you'll want top-of-the-line high-speed laser fax that can handle large volumes of traffic. These fax machines usually have super sharp resolutions and exceptional print speeds. They also will likely come with a host of features that further justify the high price.
Additional Costs
Unfortunately, once you've spent out on your brand new fax machine, there are extra costs to consider, such as maintenance and paper and ink supplies.
Paper – Depending on your faxing requirements, you may need to buy paper regularly. A4 paper is the most common, but some machines take larger sizes, such as A3.
Ink – You will need to buy replacement ink cartridges every two or three months. Inkjet fax machines will need ink cartridges, while laser fax machines will need toner cartridges. Prices for these vary depending on the brand and type of cartridge, but you can expect to pay around $20-$30 for a basic black ink cartridge or toner cartridge.
Maintenance – All machines require some form of maintenance, and your fax machine will be no different. You should clean the print head regularly to prevent ink build-up and ensure the machine is well-ventilated to avoid overheating.
You should also check the warranty that comes with your machine – many manufacturers offer extended warranties for an additional cost. However, don't expect a long warranty if you purchase a cheap fax machine.
Phone line – You will need to have a phone line for sending and receiving faxes. The cost will depend on your service provider.
These additional costs can soon mount up, purchasing a fax machine, reams of paper, replacement cartridges, and phone line rental costs. We'd estimate that these costs would conservatively add up to $500-600 a year.
If you compare this to our professional fax package at $12.95 per month, you can see the significant savings that can be made by using an online fax service. But it's not only cost but time savings you can save on. Topping up your fax with paper and toner, regular maintenance, and dealing with troublesome paper jams all take up your valuable time, which could be spent dealing with more productive tasks.
Pros and Cons of Traditional Fax Machines
With online fax services making faxing more manageable than ever, you might be wondering whether it's even worth your while investing in a physical fax machine. Here are some of the pros and cons to help you make your decision:
Pros
No internet connection is required.
Can offer multi-function capabilities
Cons
Expensive to purchase and maintain
Not as environmentally friendly as online fax services
Take up space
Depending on the model, you can't send faxes on the go
They require special phone lines
They need to be constantly refilled with cartridges and paper
For many people, the convenience and flexibility of an online service make more sense. Now we've highlighted some of the advantages and disadvantages of physical fax machines, let's look at online faxing.
Why Consider an Online Fax Service?
Convenient and easy to use – Can send and receive faxes from anywhere with an internet connection.
Low cost – Most online fax services are very affordable, especially compared to traditional fax machines.
No phone line or dedicated fax number is needed – You can send and receive faxes using your existing internet connection.
Automatic document conversion – Many online fax services automatically convert documents to PDF or other formats, making them easier to read and print.
Faxes are received quickly – Since the messages are sent and received electronically, they typically arrive much faster than traditional faxes.
The Bottom Line
There's no denying that traditional fax machines have their place, but in this digital age, many people can achieve similar or better results by using an online fax service. Not only are they more convenient, but they're also cheaper to maintain and more flexible in their utility. However, if you're looking for a fax machine on a budget, our recommendations above should help you find the perfect model at a great price.
If you are on the fence and want to give online faxing a try before spending your hard-earned cash on a fax machine, why not give us a test run?
We offer a free package, so you can try us out risk-free and see if online faxing is for you.
Take a Look at Our Free and Paid Monthly Subscription Packages Here