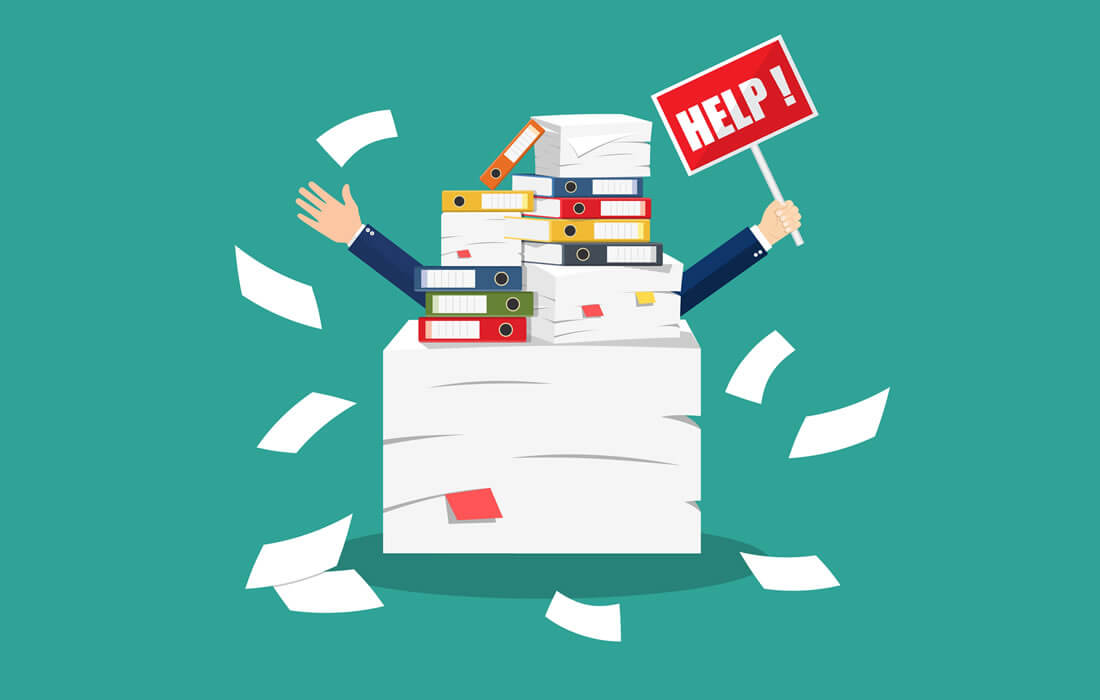 Environmental conservation is at the forefront of domestic and international discussion. As such, many people ask what they can do to reduce the production of waste in their daily lives.
There are many things we can change at home. But the workplace is equally important considering how much time many of us spend there.
The workplace has also been a place where enormous amounts of paper is used, copied, stored, and wasted.
As technology has advanced, conserving paper has actually gotten much easier. But some effort and green choices can make a real difference as well.
Today, we'll discuss 9 ways you can save paper at the office.
1. Think Before You Print
When all you need to do to print is click an icon on your computer screen, it can be tempting to print anything and everything. Stop for a moment and consider whether you really need to print that memo or document.
Maybe you can send it around via e-mail or share reading materials with a co-worker during a meeting. If a piece of paper is just going to get tossed in the bin a short time after it's printed, you probably don't need the information it contains to be in physical form.
Pro Tip: If you do need to print, think about whether you need to print the whole document, or just part of it. Selective printing is an easy way to reduce paper usage at the office.
2. Application = Conservation
So many work-related tasks that used to rely on paper usage and exchange can now be done with apps. Slack is a great tool for team-communication and file sharing. Evernote is awesome for organization, idea dissemination, and note-taking. Asana makes collaboration and project management easy, tidy, and electronic. Google docs is an effective way to collaborate on documents and spreadsheets without the need for printing and paper.
And there are SO many more. It's time to find and adopt applications that can help your office save paper as well as time.
 3. Print on Both Sides
Don't forget your printer has the option of two-sided printing. It might not be inappropriate for official documents. But, it's but certainly useful when it comes to internal ones.
As an environmentally-conscious employer, take a moment to write down guidelines for two-sided printing. Specify which documents should be printed only on one side, and which can utilize both sides. This eliminates confusion in employees and gives them an easy route to reducing paper waste.
4. Set up Direct Deposit

Checks are paper too! Why not give your employees the option to set up direct deposit? That would also save them a trip to the bank, which saves time and gas. Bonus win for the environment!
5. Reduce Label Usage

Many offices use printed labels with their address that they can stick onto the envelope to be mailed out. Between the labels themselves, and the paper they are printed on (that ends up in the trash), a lot of paper gets wasted.
The Eco-friendlier solution is to print addresses directly on the envelopes. Stamps can be printed too. Try to implement this strategy anywhere you would ordinarily use labels. You'll be surprised how many opportunities you find.
6. Shred & Recycle

Sometimes the best way to reduce waste is to recycle the waste you've got.
Make it easy for employees to get into this important habit. Encourage the separation of paper and cardboard from other trash. Make bins accessible and convenient.
Shredders can help, as undoubtedly some paper will be too sensitive to add directly into the recycling bin.
7. Archive Electronically

Archiving information is a necessary practice for many offices. But filing cabinets aren't the only way to store important documents. Not only does paper archival waste paper and office space, it's also harder to search and sort. Paper is also more likely to age or get damaged in the long run.
Thankfully, all kinds of electronic options and tools exist. It's time to research options that fit your company and office needs.
8. Use Email
No surprise you'd find this one on the list. Whether you're contacting employees, clients, or companies who serve you, use email whenever possible. It's a fast, paper-free option that virtually everyone is familiar with, and comfortable using.
9. Switch to Online Faxing
Does your office fax? If so, you can likely save a lot of paper on both the sending and receiving ends. FaxBurner is an app-based and online faxing service that eliminates the need for a physical machine, ink, and paper. Faxes are archived in the cloud for easy retrieval. Copies of incoming and outgoing faxes are also sent to your email.
Summing up Ways to Save Paper at the Office

Conserving paper in the office is a must for all Eco-conscious employers. Many employees relish the opportunity as well. Besides, it not only saves trees and other resources – it saves money as well.
In some cases, technology is the answer. In others, it's a choice to adopt a new habit or process that reduces paper waste. Either way, there are countless ways to pitch in and play your part.
What did we miss? How do you save paper at the office?