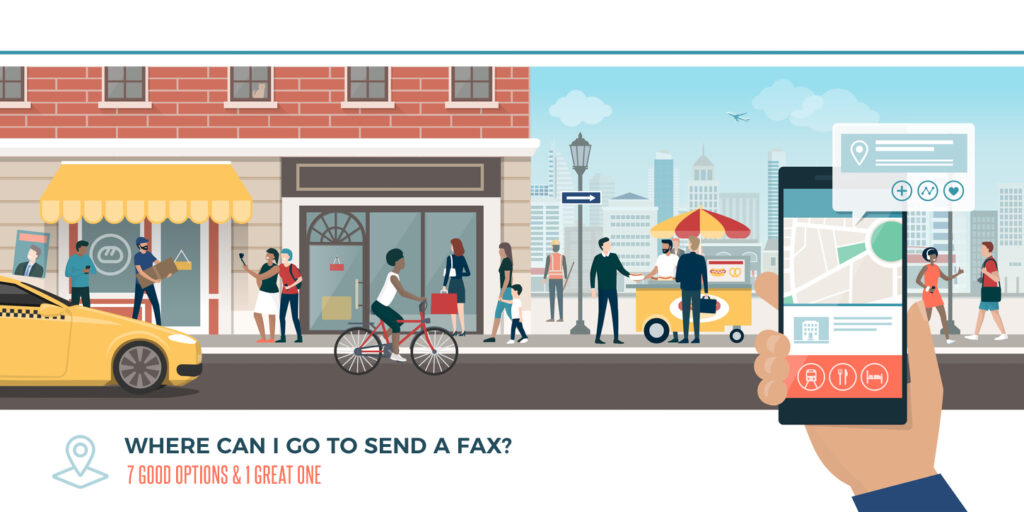 With so many other ways to send documents, isn't faxing obsolete? Surprisingly, the answer is no. Faxing remains a popular way to send documents, especially in particular sectors like finance, healthcare, real estate, manufacturing, and others.
In some sectors, and for some companies fax usage is actually growing!In a 2017 global survey of 200 large firms (500+ employees), 82 percent of them had sent the same or even more faxes than they had in 2016.
Still, many of us don't send enough faxes to justify keeping a fax machine at home. So where does one go for sending a fax? f you haven't faxed recently, you may not know where to turn. That's where we can help out. We go through your best options for sending a fax.
First, Why Even Send Faxes?
Why would someone need to send a fax today? For one thing, it's a way of sending official documents that has mass acceptance across many industries. For example, even though electronic signatures are considered valid in the vast majority of cases, individual companies may require a real signature. In addition to this, privacy concerns may make emailing certain documents verboten while faxing is acceptable. This is often the case when you are dealing with medical records or contracts. In fact, it wasn't until very recently that digital prescriptions were acceptable for certain, narcotic medications. Finally, some people simply don't use email, and they need a way to send and receive documents.
Now that the "why" is out of the way, let's look at "where" to go. Here are 7 good options, and one great one!
1. Your Public Library
It would be virtually impossible to overstate what your local library can do for you. In addition to checking out books, surfing the internet, and accessing a variety of other resources, many libraries offer faxing services. Even better, the fee for sending documents is nominal, sometimes even free. Before you spend money on more expensive faxing services, check with your local librarian.
2. Your Bank
Take a look at the fine print on your bank account paperwork. In many cases, you'll find that you have access to additional services. For example, you may be able to have your documents notarized at no cost to you. In many instances, free or reduced cost fax services are also included.
Of course, this all depends on the specific policies of your bank or credit union. Some will only fax documents that are directly related to your business with them. Others may charge a small fee per page, even if you are a customer.
3. Printing/Copying Centers And Office Supply Stores
If you have a nearby source for printing business cards and flyers, there's a good chance that you can get fax services there as well. This is true for both chain stores like Fedex and UPS as well as locally owned shops as well.
Another option available to you is your local office supply store. Retailers like Staples and OfficeMax will fax your documents for you. They'll also receive faxes on your behalf. The only downside is that you may have to wait in line when the store is busy. You'll also pay a pretty steep fee. In fact, you should expect to pay more than $1.00 per page. That can really add up if you have large documents to send.
4. Your Grocery Store Customer Service Center
You may have noticed your local grocery store has begun to evolve. Larger, 'superstores' often have postal offices, hair salons, fast food restaurants, banking centers, even office services. Oftentimes, this includes copying and fax services. To find out if this is available at your local grocery store or mass market retailer, just ask. You could take care of your faxing needs and grocery shopping in a single trip.
A potential downside is that the prices aren't always competitive. In addition to that, if fax services aren't commonly used, you may have trouble finding an employee who actually knows how to operate the equipment.
5. Your Hotel Front Desk
What can you do if you need to fax something while you're traveling? Fortunately, you may not have to venture away from your hotel. Check with the front desk staff, they may be willing to send a fax for you.
If you happen to stay at a hotel that caters to business travelers, sending a fax may be even easier. Your hotel may have an office or business center where you can access printers, fax machines, phones, and computers. Be sure to inquire about costs before you use these services. Otherwise, you could find an unpleasant surprise when you're billed for your stay.
6. Truck Stops/Convenience Stores
For truck drivers and other travelers, a truck stop is more than a place for food and fuel. It's a place to shower, rest, and connect with the people back home and at the office. To help with this, truck stops and convenience stores such as Loves Travel Stores offer internet access, Western Union services, and faxing.
As you might expect, you'll pay for these services. You may also have to wait awhile if lines are particularly long.
7. Co-working Spaces
A co-working space is a shared workspace where you can access many of the amenities that are commonly found in offices. By paying a monthly rental fee, you can make use of printers, desk space, conference rooms, white boards, meeting areas, and also faxing capabilities.
8. A Great Option: Your Computer or Phone
While the options listed above can certainly work in a pinch, they can be pretty inconvenient. As in you actually have to "go" somewhere to send your fax. Naturally, you may have to contend with fees, lines, glitchy equipment, and untrained workers. There's also no guarantee that you'll have access to these services when you need them.
Why go anywhere?
An online service like Faxburner lets you send and receive faxes using a computer, smartphone app, or even just email – no matter where you are. Download the app and register online and you'll be provided with a free fax number. Use it to send faxes with your iPhone or Android or send and receive faxes directly from your email address. You can attach documents or use your smartphone camera to create your fax, add signatures, and more.
What could be easier than that?